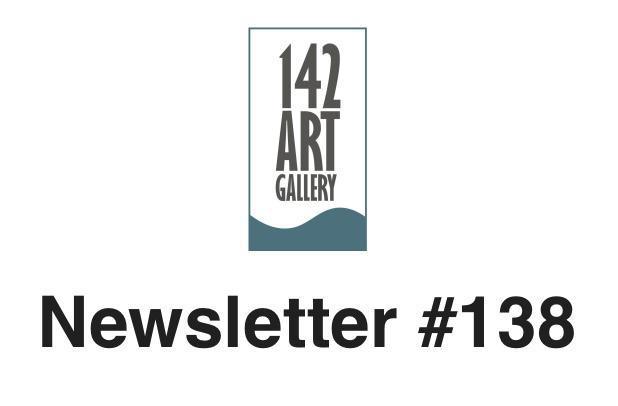 'MOSSIFICATIONS'

Thursday 13th April
'til Wednesday 19th April
(Moss will be setting up on Thursday but still open to the public)
Open daily 10am -4pm
(early closing Wednesday 1pm)
Opening Event
Saturday
2pm -6pm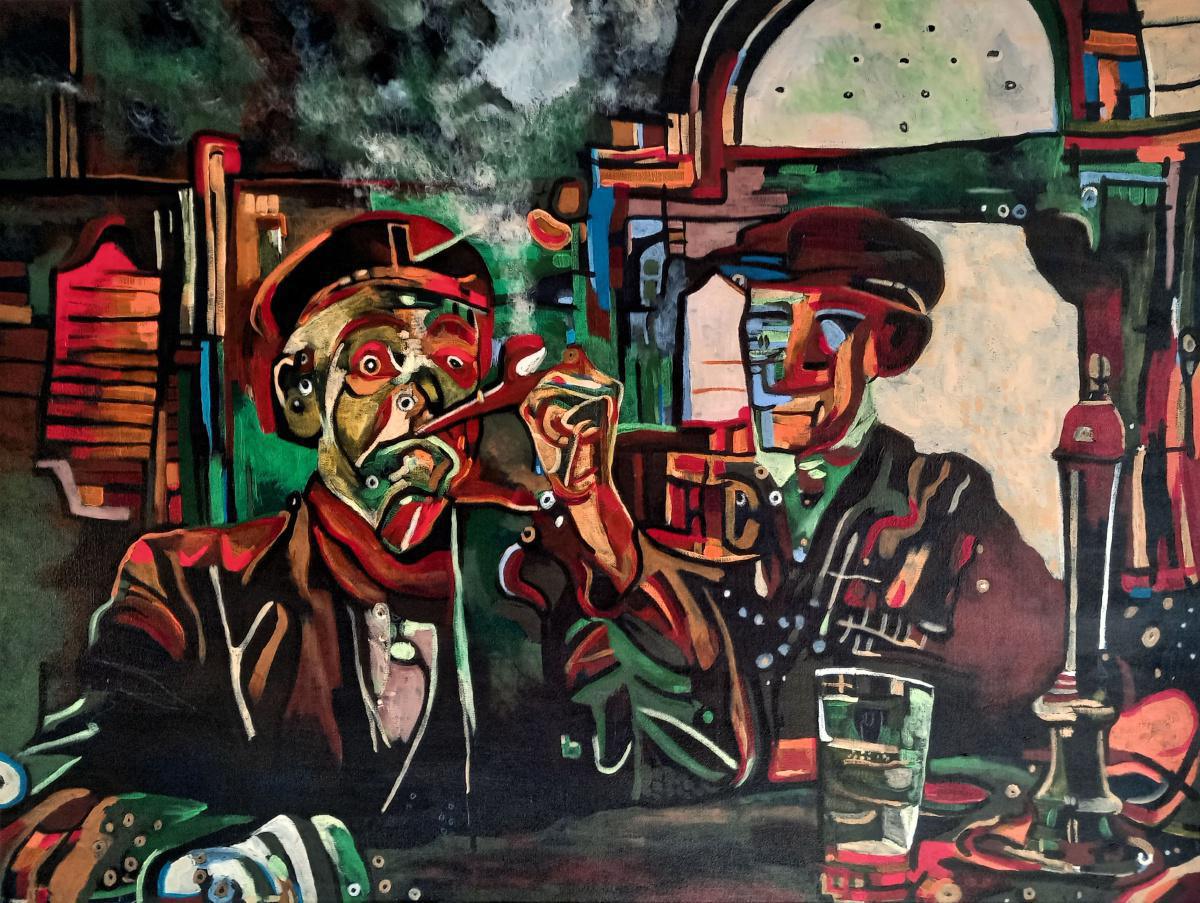 What can people expect from your exhibition at 142 Gallery?

Recent/new, big paintings, sculptures, and assemblage focusing on 'human existence'. Some smaller, more affordable artworks on paper or canvas board, selected from my 40 years working as an artist (many available for the first time).
Interactive activities for children, as devised in collaboration with my partner, Julie Shooter (a former primary school teacher of many years experience).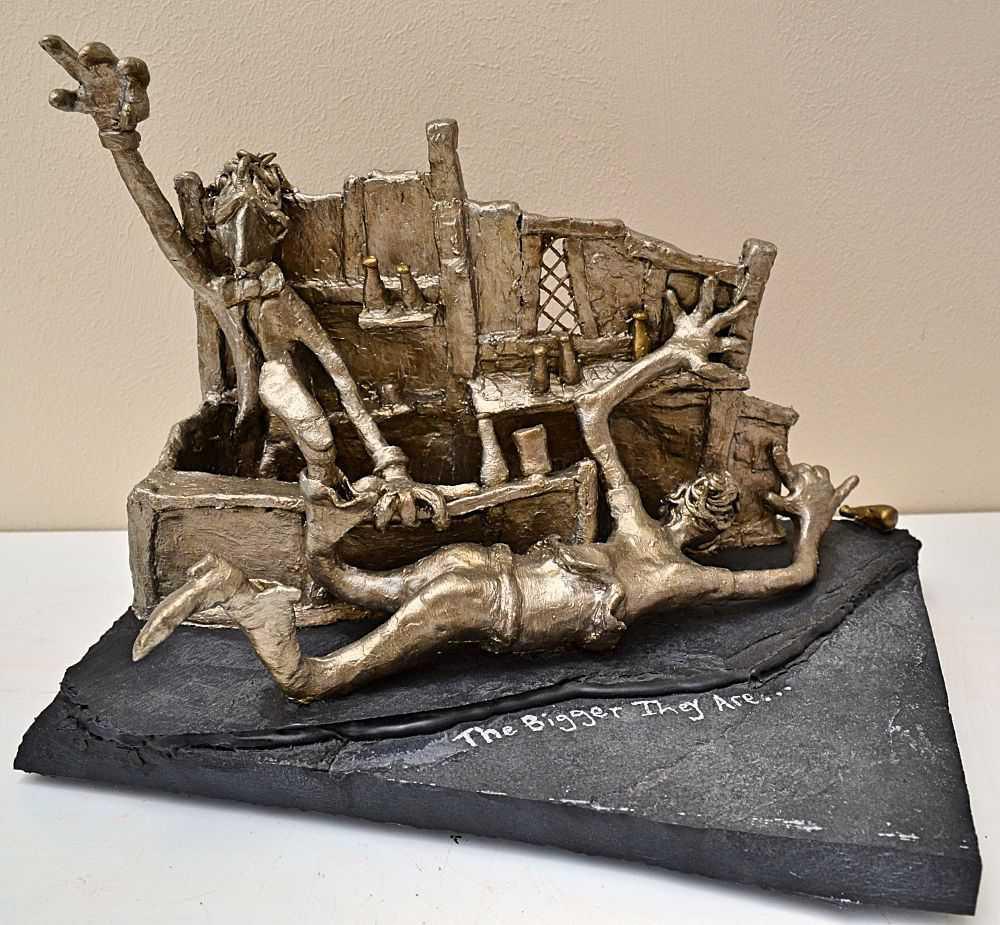 Describe your artistic journey to date:
I studied art & design at North Essex School of Art in the mid-80's, then fine art for a short while at Portsmouth- specialising in sculpture and assemblage. On leaving education first time around, I worked out of a studio in Maldon Moot Hall, Essex, then at Saltcote Mill on the River Blackwater. I set-up and ran an Arts Council supported art group 'Maldon Youth Arts Workshop' for children aged 13-17, whilst during the day, I worked as a Refractory Model Technician at a dental laboratory (making chrome casts [nearest thing I could find to working in sculpture]).
In 1991, I relocated to live in the wing of a manor house at Ardleigh in North Essex, where I had a studio to work in, thanks to the owners, who were arts patrons. I was one of a group of 'young contemporary East Anglian artists' who took part in a large exhibition (in the grounds and outbuildings there) 'Art at Ardleigh Park' in 1993. Alongside those activities, I worked as 'Art Supervisor' at Acorn Village, Mistley (a large residential care home for adults with learning difficulties); in 1994, I became 'Multi-Craft Supervisor', before leaving to begin retraining as a garden designer (at Otley College, Suffolk). Always doing my best to work creatively.
In the mid-90's I began painting and exhibiting at small exhibitions in Essex.
After suffering 5 'slipped discs' in the late 90's (and subsequent surgery), I had a 6 year hiatus from making my own art, and went to work in mental health for the NHS in Colchester, where I ran art/drama groups 1 day a week, alongside nursing.
In the mid-2000's, I returned to making my own art, then moving to rural Suffolk, before studying for a degree in fine art at University Campus Suffolk in 2011 (graduating in 2014). During that time, I exhibited at various places in the region, including the Old Ipswich Art School, Aldeburgh Beach Lookout, etc. and began selling art more regularly. In 2013, my short films were shown at the International Festival of Art, Kaunas, Lithuania.
Also in 2013, I opened my own art gallery, 'The Freudian Sheep', in Ipswich, with a view to locate, nurture, and promote new/hidden artistic talent from the Anglia Region. Whilst supporting over 150 artists, and going on a fabulous 3 year journey with them, I was also able to make and sell a great deal more of my own art than ever before. When the gallery closed in 2016, I went on to curate exhibitions at other locations- and still occasionally do that to this day, the next one (in April 2023) being a huge 'alumni show' with art from 15 years of fine art at the University of Suffolk.
More recently, I exhibited at Peter Pears Gallery in Aldeburgh, at the Harwich Arts Festival, at The Hold, Ipswich, and at Ipswich Waterfront as part of a mental health themed show.
It is my aim to be more 'out there' as an artist over the next few years. My exhibition at 142 Gallery is very much a part of that journey.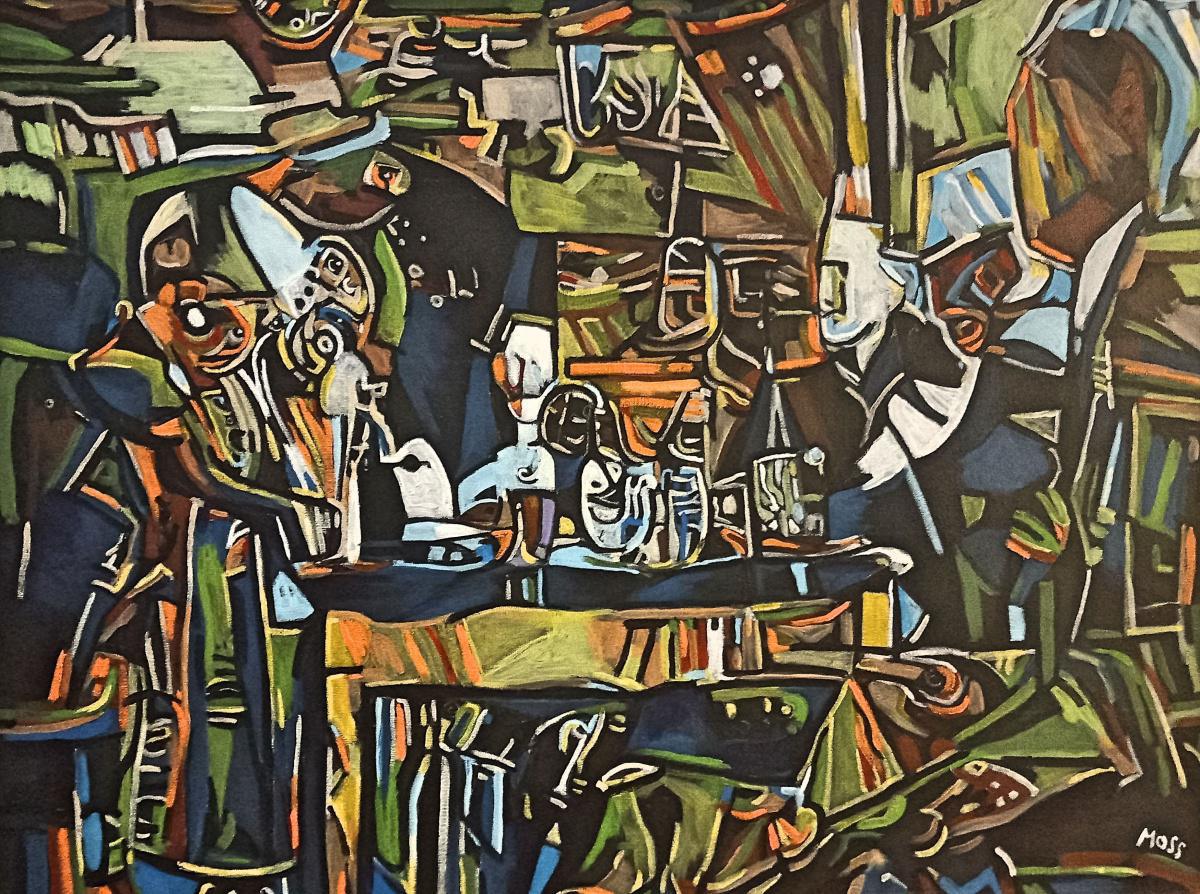 Since 2008, I have worked about 'life/death/beginnings/endings' in many media (painting/sculpture/film/photography/assemblage), at first inspired by the concept of 'time being a human construct'. After making a series of clocks that worked/didn't work/went backwards, I began making assemblages based on 'the marks humans leave behind on their man-made environment'- before discovering the colourful joy of digital glitches and the 'disappearing image' in 2012, and in 2013, after the death of my mother, I created new artworks inspired by the words of the psychologist, Carl Jung (on life & death). Since then, my focus has shifted to record transient moments taken from everyday life- especially nightlife. Often comedic, sometimes a little sad. Along with that series 'Days of the People', I have further developed my 'Transmissions' glitch series, which now (at times) includes more landscapes, as indeed it will at 142 Gallery. I now use 'deep machine learning' when conceiving some of the 'Days' series- giving the machine something, then taking it back as mine in the final painted composition; a collaboration that could only take place in recent times.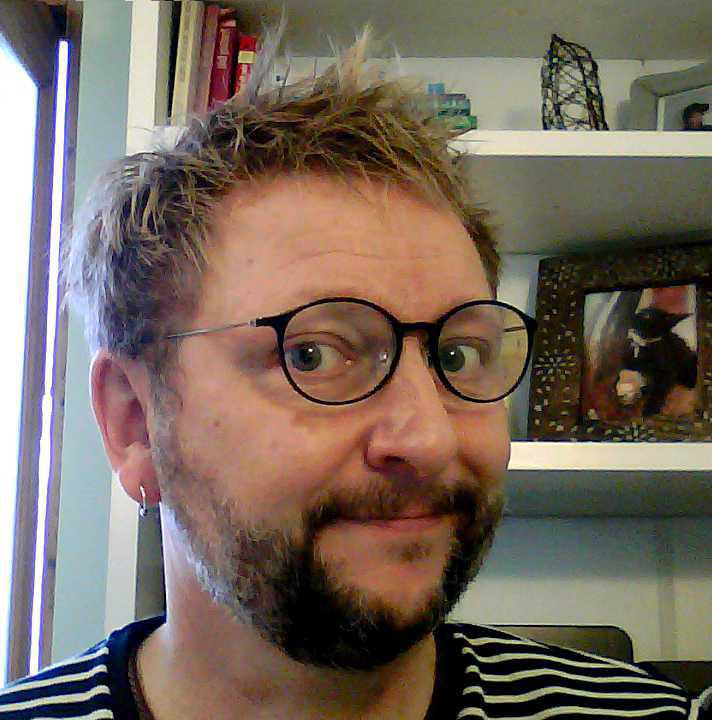 www.facebook.com/IMossyART

@mossifications (Instagram)