2.00pm | COOKING WITH LISA
Fancy seeing what Lisa's cooking? Go head over to watch Lisa's live EVERYDAY at 2pm! Click here to attend.
4.30-6.15pm | ART CLASSES AT THE WAFFLE SHACK
*FIRST TUESDAY OF EVERY MONTH
An art class for ages 8-13 years.
Each art class will run promptly from the set date and time advertised. The plan is to run a 1 hour art class, followed by 1/2 waffle and a drink for each participant.
Availability for the class is limited and tickets must be purchased in advance to secure a place.
Tickets available to buy at The Waffle Shack, Unit 5 Beach Street, Micklegate Road, Felixstowe, IP11 2GN
The responsible adult/s for each child, are welcome to stay on site and enjoy a drink or bite to eat at Beach Street, from one of the surrounding cafes/eateries during the class.
During the class, each participant will get to use a variety of different art materials and will have a finished artwork to take home at the end of the class. The class will vary each month, but promises to be fun, creative, imaginative and inspiring for those who attend!
The tutor of the class, Victoria Petchey, has had an enhanced DBS check and is about to renew her application, which can be produced upon request. A disclaimer form must be signed by the responsible adult of each child partaking in an art class. This form will be produced at the beginning of the class when each child arrives at The Waffle Shack. Any allergies or medical conditions of participants in the class must be made aware to the organisers of the class.
8.30pm | JIVESTREAM
Have some fun with The Jive Aces on: YouTube , Facebook , Twitter and Twitch at 8.30pm everyday!
09:30 - 10:15am | LITTLE KICKS
The Welcome Hall, 98 High Road,Trimley St Mary, Felixstowe, United Kingdom,IP11 0TN
For kids from 1.5 to 2.5 years of age.
10:45-11am | EXAMINING THE CATHOLIC FAITH
St Felix Church Hall, Gainsborough Road
A relaxed, free discussion of catechism; For more details contact Fr John Barnes.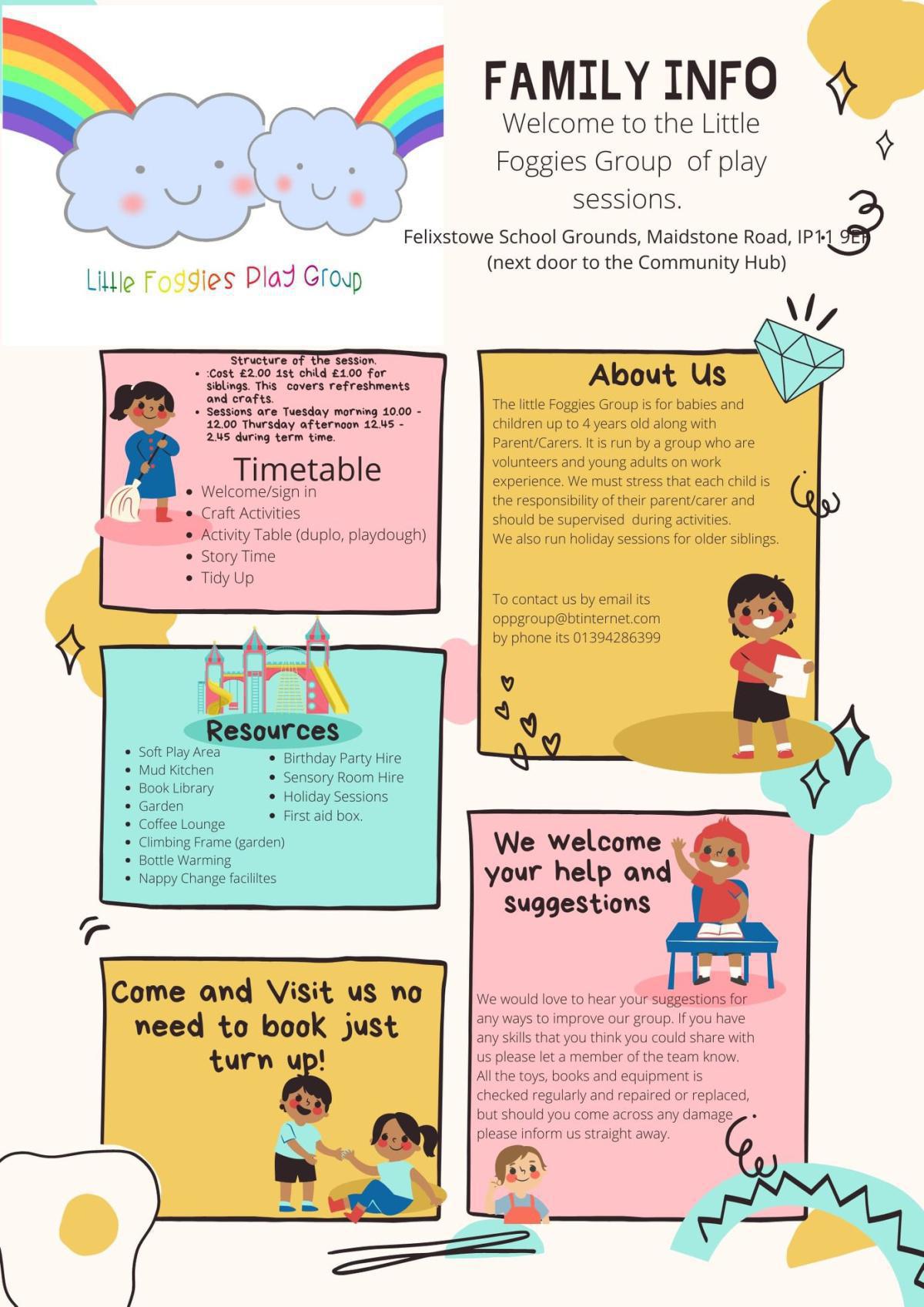 10 am- 12pm | LITTLE FOGGIES PLAY GROUP
Felixstowe School Grounds, Maidstone Road, IP119EF (next door to the community hub)
Welcome to the Little Foggies Group of Play Sessions.